140 years of social insurance – 30 years of the single market
Bismarck on the move: Get digital. Go green.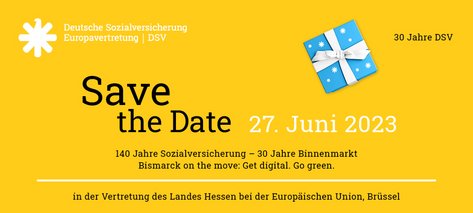 For three decades, the DSV has been promoting the interests of statutory health and long-term care insurance, pension and accident insurance in Brussels. In the context of the anniversary, the DSV is organising the conference

"140 years of social insurance - 30 years of the single market

Bismarck on the move: Get digital, Go green."

The event will take place on 27 June, from 12:00-16:00, at the Representation of the State of Hesse to the European Union, Rue Montoyer 21, 1000 Brussels.

Focus on digitalisation and climate change
Megatrends, such as digitalisation, and crises, such as climate change, are influencing society and coexistence in Europe. The social security systems are also directly affected by this, because they also have to adapt to the changes. At the conference, we will therefore address the topics of digitalisation and climate change. In two discussion rounds, we will talk with guests about how the social security systems must position themselves and what contribution Europe can make to this.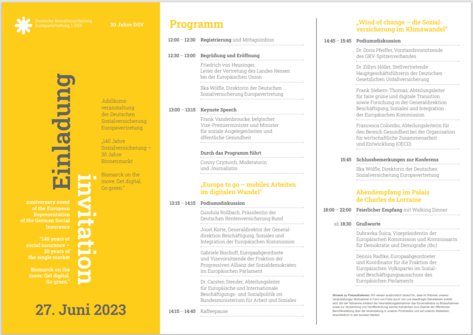 Panel 1: "Europe to go – mobile working in the digital transformation".
During this panel discussion, we will look at how the digitisation of social security systems can help support labour mobility, what role interoperability plays in this and how Europe can shape and strengthen access to social protection in times of digital transformation in the world of work.

Panel 2: "Wind of change – social insurance in climate change". 
This panel will focus on the impact of climate change on health and social protection, as well as related discussions and initiatives at European level to ensure a fair and equitable transition to climate neutrality.

Following the panel discussions, DSV invites to a festive evening reception at the Palais de Charles de Lorraine, Rue du Musée 1, 1000 Brussels, from 6 pm.

More information
There will be simultaneous translation into German and English. More information about the programme, the event and the speakers is provided on our website.

Registration is possible until 23 June 2023.