Will the exception become the norm?
ed* No. 01/2018 – Chapter 3
The 'traditional employment relationship' still seems to be standard for most people, where the worker is dependent on being employed by the employer. However, the omnipresence of business models such as Deliveroo, Uber, Airbnb and similar platforms suggest that a significant proportion of new internet-based forms of employment involve non-standard employment or solo self-employment (self-employed without employees). Do we have to get used to the fact that non-standard forms of employment are becoming the norm? 
Actually, it seems that the number of workers in non-standard employment and solo self-employment as a percentage of total workers has not really changed. According to a report from the European Foundation for the Improvement of Living and Working Conditions (Eurofound), the number of temporary contract workers as a percentage of all workers in Europe has remained relatively stable at 14.5% in 2006 and 14.2% in 2016.1 The situation in Germany has also remained the same with about one fifth (20.7%) of workers in non-standard employment.2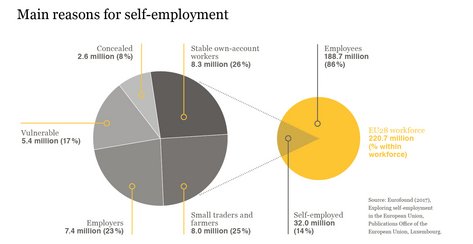 According to Eurofound, the percentage of self-employed workers in Europe has remained comparatively stable since 2002.* However, the proportion of self-employed persons without staff (known as solo self-­employed or own account workers) has increased over the same period. In total, 25% of all self-employed persons (around 8 million people) are solo self-employed and in a precarious situation in the EU 28. 
The global nature of such platforms and comparatively low costs, including staff costs, mean that these business models are quite attractive. Another reason for the economic success of platforms, and the reason for such growth in this sector, is the ability to utilise user data. This data can be used to draw conclusions on user behaviour and serve up targeted offers. A comparison between the platform economy and German industrial companies, in terms of turnover, profit, staff and market capitalisation, shows that in the five years between 2012 and 2016, digital companies grew much faster than the traditional companies.3