Europe is networking
The focus of the conference: Securing healthcare and
social systems for the next generation
ed* Nr. 01/2021 – Chapter 2
On October 28, 2020, the European representative from German Social Insurance (DSV) organised an online conference on two outstanding topics from the fields of healthcare and social policy. The invitation was accepted by high-ranking representatives from the EU institutions, the Federal Ministry of Labour and Social Affairs, the board of directors of the umbrella organisations of the German Social Insurance as well as industry – and almost 900 guests.

Two top panels discussed the topical issues of "Medicines and care for the future generation" and "Securing the self-employed during the coronavirus pandemic".

The conference was held digitally in two locations - the European capital Brussels and the German capital Berlin. The event was moderated by journalist Conny Czymoch.

The Hessian State Secretary for European Affairs, Mark Weinmeister welcomed the participants who were connected virtually and formed a wide range: One of the most important issues is to bring younger generations together with the traditional and proven social security systems and to preserve this successful model for the future.

He stressed the relevance of social insurance in times of crisis and the role it has played since the introduction of statutory health insurance in 1883. Since then, the social insurance institutions have had to constantly respond to changing conditions, including the COVID-19 pandemic. The crisis has highlighted the social security problems as if they were seen through a magnifying glass.

The issue of medicinal supplies and strategic independence had already been of great importance before the start of the coronavirus pandemic. Finally, the availability of necessary medicines is a common concern for all Europeans. For the State of Hesse, the "pharmacy of the world" with a high industrial density, this also has economic implications.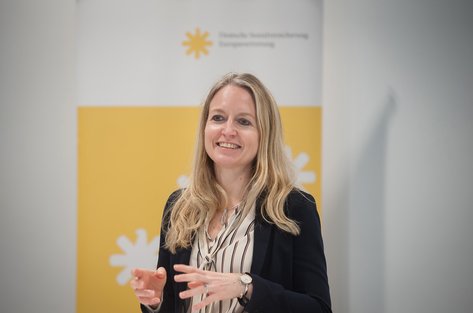 "The pandemic has revealed a number of areas, where Europe needs to become more resilient."
Ilka Wölfle, Director of the European representation, inaugurated the conference from the improvised television studio in the Representation of the State of Hessen to the European Union. Its focus was on the topic of the first panel discussion, "Medicines for future generations": "The pandemic has revealed a number of areas, where Europe needs to become more resilient." And: "however, should we want to produce our medicines only in Europe in the future, we must ask whether this is realistic with international division of labour." Ilka Wölfle particularly emphasised the lack of medical devices and medicines, especially at the beginning of the pandemic, as well as future access to medicines and the avoidance of dependencies in the production of active pharmaceutical ingredients.