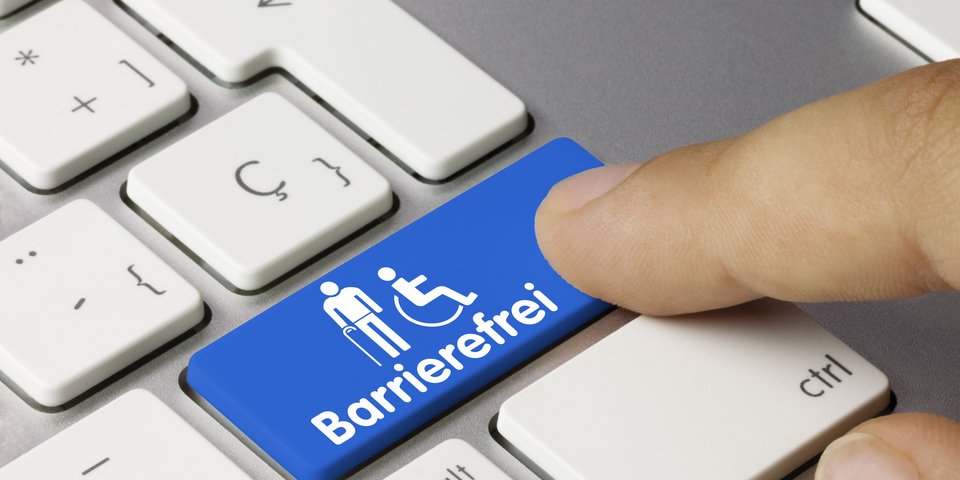 Accessible design of websites and apps in the public sector
EU Directive aims to remove barriers to the internet. Public sector bodies to make their websites and mobile apps more accessible in the future.
TF – 02/2017
The digital world is still rapidly growing. The flood of information available is constantly increasing, as is the number of services offered online or via mobile applications. As a result, more and more of our everyday life is moving into the digital world. However, in many cases, poor accessibility for persons with disabilities means that a large portion of our society is still missing out. This is a case of exclusion rather than inclusion.  
Upon ratifying the UN Convention on the Rights of Persons with Disabilities (CRPD) in 2010, the European Union committed itself both morally and politically to ensuring the rights of disabled people. Article 9 of the CRPD requires signatory countries to guarantee that persons with disabilities have access to the public sector, including access to information and communication technologies and systems.  
As a result of the Directive that came into force in December 2016, the EU now requires all public sector bodies to design their websites and apps to be accessible to all people. This is an important step forward for ensuring equal opportunities to people with disabilities, something that can benefit the entire society.  
For example, by providing alternative text for images or making it possible to navigate a website without a mouse, more people have the possibility to access digital content. The positive effect of barrier-free design is that it not only benefits people with disabilities. Everyone benefits from a design that is more user friendly, whether it be the ability to have text read out loud in poor lighting conditions, or view subtitles when watching videos with poor sound quality or where the sound has been switched off.  
The Member States now have until 23 September 2018 to transpose the EU Directive into national law. They are also required to regularly monitor compliance of public sector websites and apps, as well as to report back to the European Commission on the progress of improving accessibility.